Description
Plastic single units-hinge, opening and closing type of stainless draw latch.
A special features of EN series
All enclosures are conformed to IP66 of dust and waterproof.
There are plastic plates and metal plates to be chosen.
Draw latches and Hinge of pins are made of stainless 304 and plastic base, not to changed shape, avoid rust and long life.
It's easy fixing enclosures by brackets of stainless 304.
We can provide enclosures for special environment like as near sea, beach or water treatment, if you require.
Dimension (allowable error ± 1mm)
**Note: The dimension of mounting plate is based on the plastic mounting plate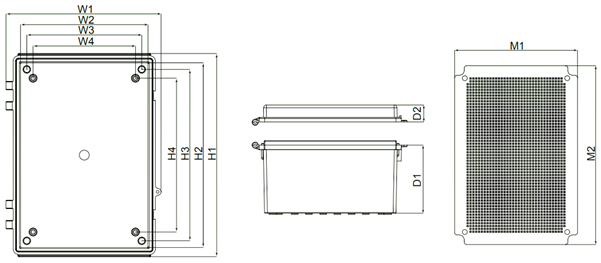 Download
Action Characteristic
Degree of Protection
IP66
Specification
Material
ABS: Acrylonitrile Butadiene Syrene (UL94-HB)
Mounting Plate (Plastic Above 3mm)
1727 PL
Mounting Plate (Steel 1.6mm)
M1727
Temperature (Continuous)
-40°C to +80°C
Temperature (short time)
-40°C to +100°C
EN Series- PVC Junction Box. 300*300*180
Brand: E-Tan
Product Code: EN-AG-303018
Availability: In Stock